Last updated: Tuesday, September 25, 2007
Tsunami Earthquake: Tragedy Or Oil Drilling Disaster?
Fuel for thought. According to independent reporter Andrew Limburg writing for Independent Media TV, it would be worthwhile asking ourselves some questions before discounting the Asian tsunami tragedy as a simple coincidence of uncontrollable earthly forces.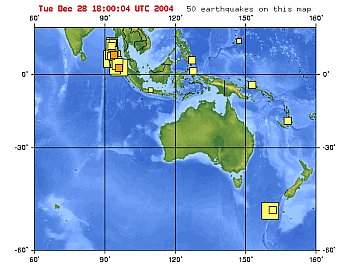 Location of Australian 8.1 Earthquake between Tasmania, Australia and New Zealand on December 24th
He writes: "Now I don't claim to be an expert on seismic activity, but there has been a series of events which led up to the 9.0 earthquake of the coast of Indonesia which can not be ignored.
This all could be an enormous coincidence, but one must look at the information and choose for themselves whether there is anything to it."
"On November 28th, one month ago, Reuters reported that during a 3 day span 169 whales and dolphins beached themselves in Tasmania, an island of the southern coast of mainland Australia and in New Zealand.


Whale Beachings in Tasmania, Australia and New Zealand on November 30th, 2004

The cause for these beachings is not known, but Bob Brown, a senator in the Australian parliament, said "sound bombing" or seismic tests of ocean floors to test for oil and gas had been carried out near the sites of the Tasmanian beachings recently.

According to Jim Cummings of the Acoustic Ecology Institute, seismic surveys utilizing airguns have been taking place in mineral-rich areas of the world's oceans since 1968.

Among the areas that have experienced the most intense survey activity are the North Sea, the Beaufort Sea (off Alaska's North Slope), and the Gulf of Mexico; areas around Australia and South America are also current hot-spots of activity.

The impulses created by the release of air from arrays of up to 24 airguns create low frequency sound waves powerful enough to penetrate up to 40km below the seafloor. The "source level" of these sound waves is generally over 200dB (and often 230dB or more), roughly comparable to a sound of at least 140-170dB in air.

...

On December 24th there was a magnitude 8.1 earthquake more than 500 miles southeast of Tasmania near New Zealand, with a subsequent aftershock 6.1 a little later in the morning that same day.

On December 26th, the magnitude 9.0 earthquake struck at the intersection of the Australian tectonic plate and the Indian tectonic plate. This is the devastating tsunami tragedy that we have all heard about in the Indian Ocean.

...

On December 27th, 20 whales beached themselves 110 miles west of Hobart on the southern island state of Tasmania.

What is interesting about this is that the same place where the whale beachings have been taking place over the last 30 days is the same general area where the 8.1 Australian earthquake took place, and this is the same area where they are doing these seismic tests. Then 2 days after the Australian tectonic plate shifted, the 9.0 earthquake shook the coast of Indonesia.

A great deal of interest and seismic testing has been taking place in this area, as the government of Australia has given great tax breaks to encourage the oil exploration.

...."
"The earthquake came just three days after a magnitude 8.1 earthquake in a completely uninhabited region west of New Zealand's sub-Antarctic Auckland Islands, and north of Australia's Macquarie Island [8].

This would normally be unusual, since earthquakes of magnitude 8 or more typically occur only about once per year on average [9].

Seismologists have speculated about a possible connection between these two earthquakes, saying that the former one might have been a catalyst to the Indian Ocean earthquake, as the two quakes happened on opposite sides of the Indo-Australian tectonic plate."
Please read the full original story by Andrew Limburg.
My invitation to you is always to think and question what appears undisputable.
There may be at times something interesting to learn.
Think.
Warning
: include(/usr/www/users/ikonos2/2673.php) [
function.include
]: failed to open stream: No such file or directory in
/usr/www/users/ikonos/tsunami/tsunami_earthquake_tragedy_or_oil.htm
on line
104
Warning
: include() [
function.include
]: Failed opening '/usr/www/users/ikonos2/2673.php' for inclusion (include_path='.:/usr/local/lib/php') in
/usr/www/users/ikonos/tsunami/tsunami_earthquake_tragedy_or_oil.htm
on line
104
Related Articles
January 21, 2005
Tsunami Earthquake Causes: Speculations Or Facts?
Is it reasonable to question possible alternative causes for the tsunami earthquake disaster? Are you really so sure that earthquakes cannot be easily triggered by either planned or careless human action? Types and locations of earthquakes induced by man - Click on the map to enlarge it -... read more
January 2, 2005
Tsunami Video Footage: Where To Find It
Here it is. This is my best effort at bringing together all of the videos, amateur footage and official TV news stories that have appeared on the Web in the last seven days. It is a growing collection that would have not been possible if not... read more
September 4, 2004
Top News Stories Ignored By US Mainstream Media
Consolidation of the media in the hands of a few corporate interests has so far resulted in much fewer voices bein able to genuinely speak and report back about the key issues and problems we should be paying attention to. The main consequence of this is... read more
September 1, 2004
How Much Does It Cost To Keep (What Should Be) Public Information Secret?
"The 9/11 Commission, leaders in Congress -- even the government's top secret-keeper -- all agree that Washington's penchant for keeping information under wraps has grown out of control. Now, a coalition of watchdog groups has documented just how much it's costing to keep all those records... read more
posted by Robin Good on Monday, January 3 2005, updated on Tuesday, September 25 2007