Last updated: Tuesday, April 12, 2011
Full Tsunami Video Footage, Pictures, Clips and TV News Stories
Seven days after the tsunami disaster started hitting the poor northern tip of Sumatra, hundreds of video clips, TV news stories and thousands of images have stood as witnesses to the tragic event.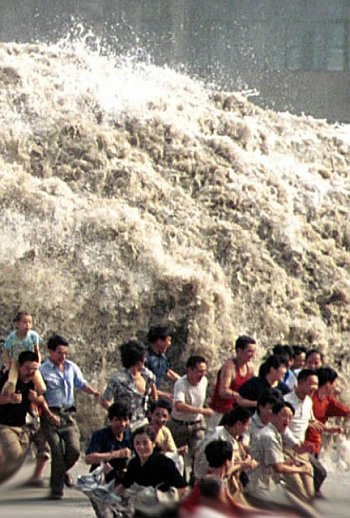 Backward Flow in Qian Tang Jiang River, Hangzhou, Zhejiang, China - 10/2002
The goal of this resource is to provide a comprehensive clearinghouse of the visual content coming from many online resources — amateur and professional — which cover the December 26, 2004, tsunami in Asia.
This is a simple, annotated guide to the tsunami videos, news clips and images available on the Internet. All sources are credited and linked.


Tsunami comes from the Japanese tsu (harbour) and nami (wave).
Tsunamis are large waves (like tidal waves) caused by seismic activity such as volcanic eruptions or a vertical displacement of the oceans - by earthquakes, landslides or meteorite strikes.
The 2004 Tsunami Video Collection Guide
Here below the best collections of video clips on the 2004 Tsunami that I have been able to rescue after a long research:
If you are looking for 2005 tsunami video footage, here are some of the most impressive tsunami video clips I have gathered from a multiplicity of sources. All these videos can be immediately viewed by anyone, independently of the computer and operating system you use, and without needing to install any additional software.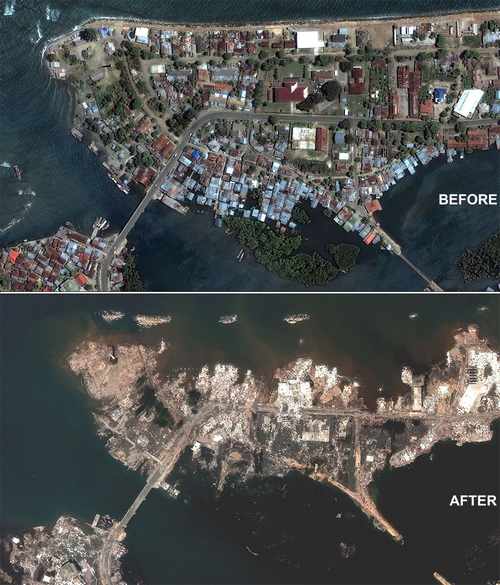 In this mini-collection of tsunami video clips are some of the most remarkable images of what the 2004 tsunami left after it hit the shores of many south Asian countries.
Video clips of survivors from the tsunami report their experience during the tragic moments when the gigantic wave hit the coastline. Some of these videos are coming from professional news sources like international TV stations and news agencies.
In this set of videos from the 2004 tsunami, there are some interesting clips focusing on the issue of tsunami prevention, what could have been done and what should be done in the future to avoid similar tragedies from repeating themselves.
Other tsunami video sources
:
Updates:
**************
April 12th, 2005:
**************
National Geographic News
The National Geographic News index page on the tsunami has links to over 30 background articles, discussing topics such as cause and effect, facts and artifacts, comparisons and historical precedents, animals' sixth sense, satellite warning systems and preventive measures.
PollyFodder Photo and News Archive
The Tsunami Emergency site, maintained by Australian Peter Z (aka PollyFodder), contains snapshots of remarkable pages and pictures relating to the tsunamis.
**************
Feb 22nd, 2005:
**************
Yahoo! News Dossier
The Asian Tsunami Disaster portal on Yahoo! news is an excellent starting point to find resources related to the Asian tsunami of December 2004. The dossier has the following.
news headlines, reports and editorials


blog postings and dedicated web sites


slideshows, videos and audios


charity organizations and recovery operations


graphs, maps and aerial views


You can even subscribe to an RSS feed that provides news on the Asian tsunami, or add a section to your My Yahoo! page.


**************
Feb 21st, 2005:
**************
ReliefWeb
ReliefWeb, an independent portal providing information on humanitarian emergencies and disasters, lists daily news updates, background information, maps and other links to information related to relief operations in the areas affected by the Tsunami disaster. The news updates are gathered from academic sources, governments, news agencies, NGOs and the United Nations. Thorough and mostly text-based information. ReliefWeb launched in 1996 (more info).

Photo credit: U.S. Navy photo by Journalist 3rd Class Isaac Needleman
Indonesian Forum for Environment
The Tsunami Recovery Album on this web site shows pictures of the emergency relief operations by WALHI (Wahana Lingkungan Hidup Indonesia), the Indonesian Forum for Environment. Don't just look at the pictures; browse the website and read the daily updates on their operations in Aceh and North Sumatra, then go to the interesting article on disaster management. The web site is mostly bilingual (Indonesian and English).
ChamorroBible.org
ChamorroBible.org, a bilingual site in Chamorro and English, has pictures of the tsunami and of the humanitarian recovery efforts during the first weeks of January 2005. Every page is introduced with a Bible quotation. The pictures are annotated with full photo credits and hyperlinks to relevant web pages.


**************
Jan 20th, 2005:
**************
New York Times
Asia's Deadly Wave is New York Times' outstanding graphical report of the tsunami. It has detailed maps and pictures of the devastation caused by the earthquake in India, Thailand, Sri Lanka and Indonesia. (Dec. 28th 2004)
Doctors Without Borders / Medecins Sans Frontieres (MSF)
MSF's index of related articles.


**************
Jan 17th, 2005:
**************
Tsunami Video Hosting Initiative
The Media Bloggers Association, a rapidly growing organization dedicated to promote news-oriented and political bloggers, has set up a video hosting initiative that relieves video hosts from the increase in video bandwidth demand by seeking server capacity donations. As of Jan. 11th, over a dozen videos are listed with links to the original blogger and the current mirror locations. Check out the MediaBloggers' own blog, which has several posts about this initiative and pointers to big media, such as The Washington Post and BBC.


BBC News
In Tsunami Disaster Spurs Video Blogs, Clark Boyd, technology respondent for BBC News, describes how current technology created a phenomenon in video blogs and how heavily Internet readers have come to rely on amateurs' efforts to satisfy their need for information about the disaster. (Updated Jan. 14th 2005)


NBC 10
The NBC10.com video blog is a collection of videos, images and stories from NBC's sources about the tsunami disaster. It contains extended video footage originally featured on NBC local TV broadcasts, in addition to AP images from South Asia. This blog was started Dec. 27th and has been updated through March 2005 with many slideshows and videos. All material was hosted from NBC 10's own feed room.


Wave of Destruction
Geoffrey Huntley regularly updated his WaveOfDestruction (WOD) site until March 2005 and did a terrific job of adding videos and images, both in their original format and as torrent files. Huntley was very dedicated in his editing and made sure all of his links were accurate.
In addition to using the P2P file sharing protocol BitTorrent, Huntley suggested readers use YouSendIt to submit material to him. YouSendIt is a tool that serves as a temporary file server to get around the usual file size limitations that Internet service providers put up for email attachments.


WOD has also commissioned a videographer to shoot images of the Similan islands, an island group located one hundred kilometers north of Phuket.
Previous entry about WOD in this article.


Warning Against Bandwidth Overage Charges
Blogger Scott Sala has an entry called Tsunami Video Lesson in his blog. It shows how other video bloggers can learn from his experience when he 'carelessly' put up a single video that received so much traffic in one day that he got charged heavily for bandwidth overage. The same thing happened to others who host videos.


CNN.com International
Although its videos are mostly premium content (CNN uses RealPlayer Newspass, a USD $4.95 monthly subscription service), CNN's video log of the was worth a visit because it provided the latest news, eye-witness stories, exclusive photo galleries, background information and special reports.


**************
Jan 13th, 2005:
**************
Internet Archive
The Internet Archive is a public, not-for-profit online library offering thousands of files that may be downloaded freely. It also has an enormous video collection and a collection of movies on the tsunami catastrophe.


Jordon Golson (Mass.) of the Cheese and Crackers blog has a video collection on the tsunami.


Wizbang!, Explosively Unique...
Wizbang! is Kevin Aylward's weblog. He has many posts referencing tsunami videos


Planet Bangkok
Planet Bangkok is a weblog by Canadian expat Lance Powers. He links to the six videos hosted by Jordon 'Cheese and Crackers' Golson. Powers has many videos listed here.
While you're at PlanetBangkok, read Impatient Phuket by Phil Macdonald, addressing the transience of media sensationalism.


Amateur Video Footage - Waxy.org
A collection of the most popular original video clips from amateur reporters.


Chris Holland Torrents for Austin Blog's videos, which are no longer available on Austin Blog.


Wave of Destruction
Wave of Destruction.org's mission provided the latest multimedia updates on the Asian tsunami crisis. It has Over 30 raw footage videos of the tsunami in their original formats.
Photo albums (over 1900 pictures from all affected areas).


Cheese and Crackers
Tsunami Video collection
A collection of links to videos and raw footage clips. It points to multiple mirrors for each video.


Tsunami Video Hosting Initiative


The Tsunami Video Hosting Initiative is a "distributed content-broker" system that matches web hosts willing to donate server space and bandwidth bloggers and others with Tsunami video sources who need low cost hosting for tsunami videos. Fourteen most popular amateur videos are here, in a variety of formats (mostly .wmf, .asf, .mp4)
http://mediabloggers.org/tsunamivideohosting/


Tsunami Videos
Video resource by Eric Moore
This site has a 390 MB (as of 09/16/05) zip-file containing all the videos available for download. The contents of this zip-file include the two BitTorrents (contains amateur-videos and high-res photos); BBC, AP, and "waveofdestruction.org" videos; several visualization-graphics including some NOAA-files; streams-references for Reuters clips, and one PowerPoint containing "Before & After" satellite-photos.


Asian Tsunami Videos
A good collection with thumbnails of all videos available and multiple mirrors to download them.


DataWhat?
Waterworld - an extensive collection of videos and photos collected from Austin Blog and Cheese and Crackers covering the Tsunami from all the regions affected.


Rocketboom
Tsunami Special Video Feature
A collection of 15 popular amateur videos with thumbnail images. Available in .mov (Quicktime format) and BitTorrent.


Yahoo Video Search
With new Beta version of the powerful new video search engine you can find many amateur videos shot during the tsunami that occurred on December 26, 2004. Here is the
Yahoo! Search video result for "tsunami."


Wikipedia
Wikipedia has a special section on the 2004 Indian Ocean earthquake, which is devoted to resources related to the tsunami. It lists videos and a meta list of all resources reporting news and collecting images and videos from the Tsunami hit areas.


MSNBC News
Coverage of Indonesia quake contains a video gallery of clips related to the tsunami.
Areas hit by quake, tidal waves


BBC News
Animated Guide: The Tsunami Disaster
Tsunami video reportage (Real Player required)


NBC10 Feedroom
Collection of videos and photographs about the Asian Tsunami. Unfortunately there may be inappropriate ads at the beginning of each video.
Hurricane Schwartz explains tsunami and how it happens
Glenn 'Hurricane' Schwartz shows us what causes a Tsunami (made need Internet Explorer for it to work).


CNN
Deadly Tsunami Video Log
Over 30 video reports in Real Player format (requires CNN NewsPass registration).


Before and After - Indian Ocean
DLR - Center for Satellite Based Crisis Information
Detail satellite imagery for many of the affected areas including Phuket/Khao Lak Thailand and Banda Aceh/Medan Indonesia.


Reuters _ Alertnet
SAT MAP: possible extent of Tsunami flood waters
Regional Map of Tsunami Affected Areas


Digital Globe
QuickBird Images of Tsunami Sites
Collection of before and after the tsunami images from Banda Aceh and Sri Lanka



World Earthquakes RSS feed
an RSS feed for earthquakes worldwide.
RSS 2.0 link: Earthquake Activity


The Mega-Tsunami (scientific speculation about future mega-tsunami in the Atlantic ocean). Scientists fear the eruption of a volcano in the Canary islands could trigger one of the worst disasters ever recorded.
Simon Jeffery - 2001 (c) Guardian Unlimited


Getting a better idea of how it all happened
Scientists: Surprising Tsunami Findings explains what scientists have discovered.


One year later
Videos and panoramic images of Aceh, the place hit hardest by the tsunami.
Evelyn Rodriguez shares her experiences as an accidental citizen journalist.
Stories:
Tsunami stray rescued by dentist
Tsunami survivors inspired 'Tortoise and Hippo', a film.


More videos and photos available on P2P networks
Multiple videos and photos are also available through the major P2P file-sharing network. These can be easily accessed with a P2P client like Shareaza for Windows or Limewire on the Mac.



Extra Credits:
Two China images displayed in this article - source information provided by Susan Wyatt, Internet News Producer at KING5.com/NWCN.com



Disclaimer: In no way do I deserve credit for the visual content linked and referenced here. Credit goes to all the individuals, tourists, locals, news reporters and media channels who have captured, recorded, edited and provided this material for the world to see. My job is only to be a patient and careful digital librarian who has verified, downloaded, viewed and tested all of the links collected here. Please note that some of the material listed here may not always be accessible due to the high demand, many individual hosts can't support such Internet traffic. Each of you can contribute in making the content more accessible by using P2P file sharing software or by uploading the files using BitTorrent so others can download it.
Related Articles
January 3, 2005
Tsunami Earthquake: Tragedy Or Oil Drilling Disaster?
Fuel for thought. According to independent reporter Andrew Limburg writing for Independent Media TV, it would be worthwhile asking ourselves some questions before discounting the Asian tsunami tragedy as a simple coincidence of uncontrollable earthly forces. Location of Australian 8.1 Earthquake between Tasmania, Australia and New Zealand... read more
January 21, 2005
Tsunami Earthquake Causes: Speculations Or Facts?
Is it reasonable to question possible alternative causes for the tsunami earthquake disaster? Are you really so sure that earthquakes cannot be easily triggered by either planned or careless human action? Types and locations of earthquakes induced by man - Click on the map to enlarge it -... read more
May 31, 2004
The Web As An Alternative Source Of News Judgement
Web has evolved into an alternative source for news judgment. "It's as if people let the news sink in, paused to register what beheading of an American, video-taped and broadcast... really means, and then said: Okay, now I want to see for myself. Show me, television... read more
October 26, 2004
The News According To Us: WikiNews
Boing Boing's Cory Doctorow reports on what appears to really be a super major news items for anyone seriously interested in seeing how independent newsmakers are about to create a world-wide independent news clearinghouse. Called wikinews this new project is set to become a free alternative... read more
September 4, 2004
Top News Stories Ignored By US Mainstream Media
Consolidation of the media in the hands of a few corporate interests has so far resulted in much fewer voices bein able to genuinely speak and report back about the key issues and problems we should be paying attention to. The main consequence of this is... read more
November 19, 2004
Have A Good Idea? Global Ideas Bank Is Waiting For You
All of us have great ideas from time to time. Most often, those bright sparks extinguish quickly, usually because a great idea unshared is nothing more than that - a great idea. But if you have a great idea that you'd like as many people as... read more
posted by Robin Good on Sunday, January 2 2005, updated on Tuesday, April 12 2011